SEAMS
We firmly believe in the pupil voice and provide many opportunities where children can get involved and really make a difference. Our school is split in to 'Seams' which allow us to learn and support each other in cross phase groups with the recognition that we are all part of our larger school family.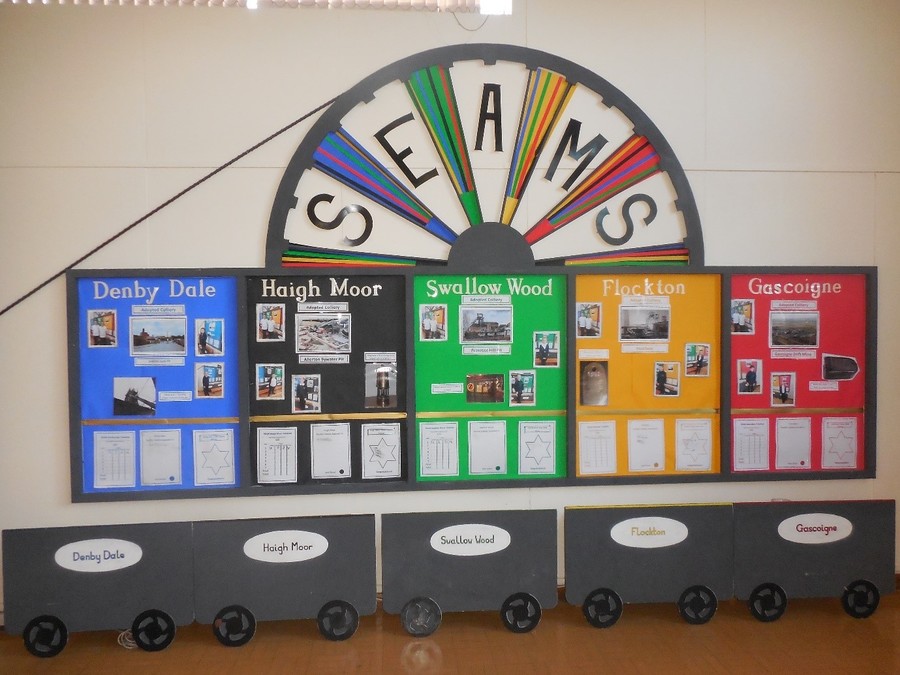 | | | |
| --- | --- | --- |
| Name | Motto | Linked Colliery |
| Swallow Wood | Flying high | Primrose Hill |
| Haigh Moor | Live the SEAM | Allerton Bywater |
| Flockton | Sempur sur sum | Peckfield |
| Gascoigne | Grow Gascoigne grow | Gascoigne Drift Mine |
| Denby Dale | We put the team in SEAM | Ledston Luck |
SEAM Leaders
SEAM Leaders are voted for democratically by their peers and form the School Council.
SEAM Deputies are responsible for the reward system and assisting their SEAM Leader with school events.
Our rewards
Children earn rewards for their SEAM.
One Cobble can be earned for acts of kindness, good manners around school and a super working attitude
A Double Cobble can be earned for going the extra mile, that extra act of kindness, representing school in such a brilliant way, extra effort with learning
A Triple Cobble is awarded by the Headteacher for outstanding acts and effort
Double Cobbles and Triple Cobbles are celebrated by displaying pupils' names on their SEAM board and being acknowledged in a Friday assembly.
Upper Key Stage 2 Roles
All our pupils in KS2 have a role to fulfill to support the school community and to help them achieve their JASS Award. At the beginning of the school year roles are advertised, pupils apply for their chosen role and are interviewed by Senior Leadership, just like in the real world of work. Children receive appropriate training and arrange rotas.
Children relish these roles and our younger children love to take part in the additional activities.
Head Overseer's and pupil leader roles are currently being advertised and the recruitment process is underway.